ESEF Reporting compliant with KNF
Plug&Play - no implementation costs
Text block Tagging
xHTML - visually perfect
Tagging-as-a-Service (TaaS) - outsourcing ESEF DESKTOP OR INTEGRATED
SOLUTION TAGGING OF ALL
DOCUMENT TYPES INSTANT TAGGING WITHOUT
IMPLEMENTATION PROJECT READY-TO-PRINT LAYOUT FOR
DIRECT ESEF REPORTING
What do the new ESMA guidelines mean for my company?
As of 2020, the European Securities Markets and Authority (ESMA) requires all issuers on EU regulated markets to prepare annual reports in the Inline XBRL (iXBRL) format. Inline XBRL is an XBRL embedded in HTML, which means HTML annual reports are also mandatory. These ESEF reportings can be viewed with any web browser.
XBRL Tagger – ESEF Plug & Play without implementation project
With our easy-to-use XBRL certified software, you can create ESEF-compliant reporting in no time. Even without an implementation project and IT knowledge, you can immediately begin tagging your annual reports. The stand-alone XBRL tagger can recognize any data format and process all taxonomies. You can easily map IFRS taxonomy items to the corresponding financial statement numbers.
Convert any MS Word, PDF, HTML, or InDesign document to support the fast and easy operation of the stand-alone XBRL tagger. Once the mapping is done, all tags can be rolled forward to the new ESEF report in the following year.
Alternatively, the XBRL tagger is available as an integrated process solution within our disclosure management software SmartNotes. In addition to XBRL tagging, SmartNotes supports the complete end-to-end process from data imported from the consolidation system to the ready-to-print layout. Further information can be found here.

"Bolt-on" solution: generate (i)XBRL reports from Word, Excel, PDF and InDesign with the XBRL Tagger


PDF / Word / InDesign tagging


All taxonomies and languages

Auto-tagging and mapping by smart AI

Corporate design compatible export
Disclosure Management SmartNotes:
End-to-end process to the annual report
Our Disclosure Management increases the efficiency in the preparation of annual reports and iXBRL reports and helps you to implement a valid ESEF reporting. Through the integration of the XBRL tagger, SmartNotes is available as a "built-in" version. In addition to XBRL tagging, SmartNotes supports the complete end-to-end process from data imported from the consolidation system, to the ready-to-print layout.
At the same time, our ESEF reporting software offers a variety of additional functions to support the professional work of your employees and to eliminate non-value-adding activities. For example, changes to a data import lead to an update of affected contents, in the tables, in the continuous text and in all language variants of your annual reports.
With our built-in role concept and full audit trail, we offer you revision security and also respond to your individual requirements. In addition, imported values, rounding adjustments, created taggings and texts are retained for the next report. In addition to ESEF, you can choose from a variety of other output formats, such as print-ready Word, PDF, Excel, InDesign, XBRL or iXBRL.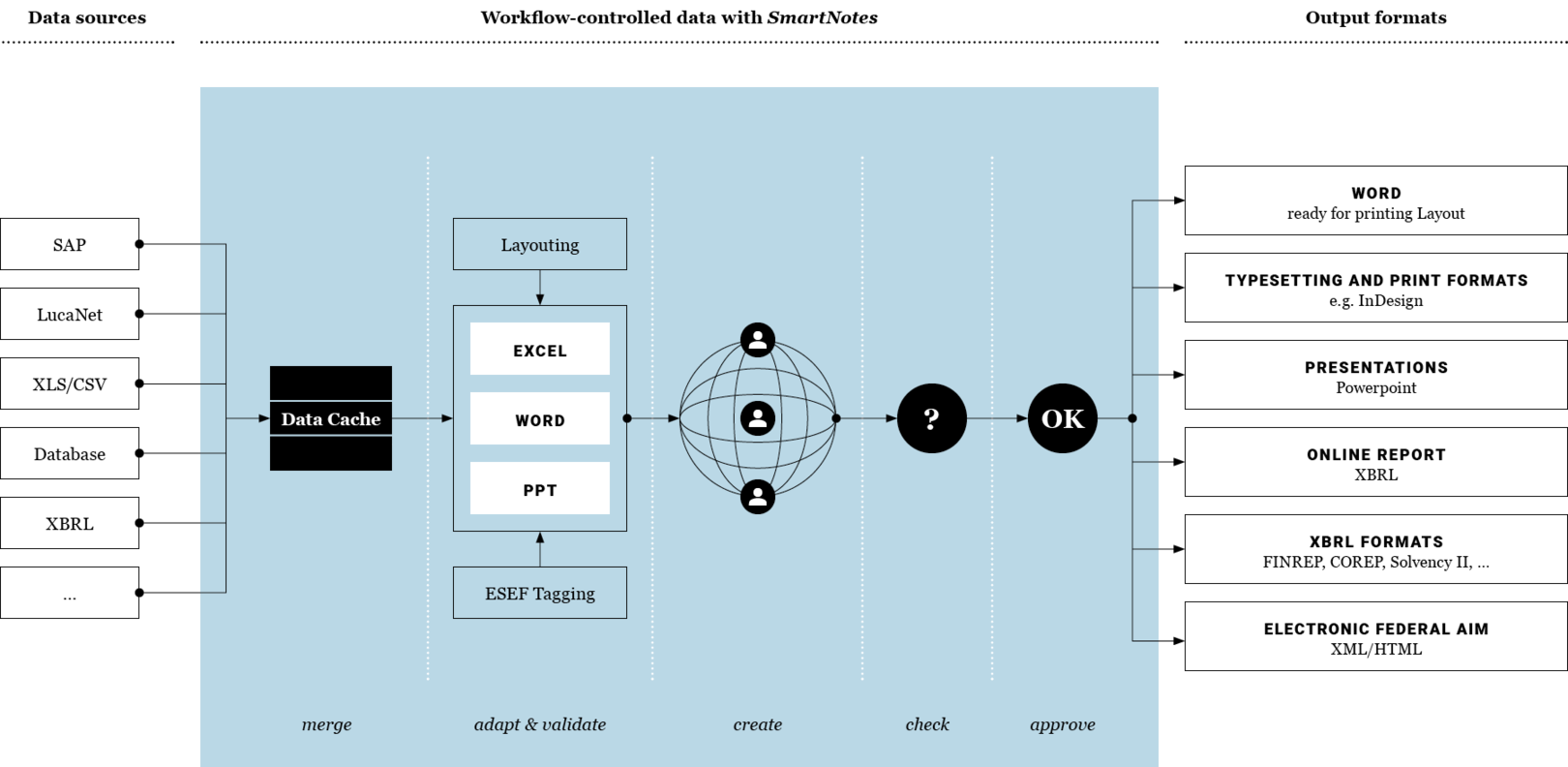 XBRL "built in": workflow-controlled data flow with SmartNotes – fast creation of ESEF annual reports in iXBRL END-TO-END
PROCESS
WITH
SMARTNOTES FLEXIBLE INTERFACES
IN
SMARTNOTES READY-TO-PRINT
LAYOUT FOR
DIRECT ESEF
REPORTING INTEGRATED XBRL
PROCESSOR
IN OUR ESEF
SOFTWARE SIMILAR REPORTS
DIRECTLY IN THE
DISCLOSURE
MANAGEMENT FULL AUDIT
TRAIL OF
TAGGING
ITEMS
AUTHORIZATION
CONCEPT
AND
MULTI­LINGUALISM MANAGEMENT
OF
REPORTED
NUMBERS
AMANA software for your ESEF annual report
Regardless of which document format you have and whether it has a "built-in" or stand-alone "bolt-on" version: our integrated XBRL certified software guarantees a valid ESEF annual report in the iXBRL format.
The stand-alone XBRL tagger can recognize any data format and process all taxonomies; no implementation project or installation is necessary. Additionally, the XBRL tagger is integrated in our Disclosure Management SmartNotes. In addition to tagging, SmartNotes provides a complete end-to-end process from the first data imported from the consolidation system to the ready-to-print layout for publication.
Number of concurrent users working on one report
Certified (i)XBRL processor
PDF | HTML | InDesign tagging
XBRL tagging roll-forward
Disclosure Manage­ment Function­alities
Support for multi­lingual reports including number formatting
Integrated disclosure checklist
Content manage­ment based on Microsoft Office
Report roll-forward (numbers, manual adjust­ments, notes & comments)
Different types of output documents (e.g. Word, Excel, PowerPoint, HTML, iXBRL, XBRL, InDesign, etc.)
Linking & automatic update of values from data sources ( e.g. SAP, HFM, LucaNet, etc.)
Individual workflow system
"Layout Robot" for the automated production of glossy and ready-to-print reports
Detailed authorisation system and full audit trail
Compare XBRL Tagger and SmartNotes – find the right solution for your company.
Check and validate ESEF and iXBRL reports with the AMANA XBRL Auditor
The new ESEF regulation mandates listed companies to publish their annual financial reports in iXBRL digital format. In many EU countries, the ESEF reports also have to be audited or reviewed.
The main challenge of auditing iXBRL reports is the technical validation, checking of tags selected by the report creator and the comparison of the traditional format (PDF) with the new iXBRL format. Auditing iXBRL reports requires new knowledge for auditors and can only be done with a proper certified XBRL software.
The AMANA XBRL Auditor was developed on the basis of our many years of experience from hundreds of XBRL projects with a clear focus on the review and audit of iXBRL reports according to the ESEF regulation.
The AMANA XBRL Auditor supports you by:
automizing the technical validation in accordance with the ESMA Validation rules
checks for integrity of the machine readable and human readable document
supports the documentation with checklists
version control, by comparing and tracking changes from one version to the other
client communication with comments
four eyes and review function
The generic approach allows the auditor to load any iXBRL report, no matter which tool was used to create the report. Immediately, the machine-readable dataset is validated and displayed and can be compared to the "human-readable" XHTML. The compliance check of the report as described by the ESEF Reporting Manual as well as the regulation itself can be performed and confirmed with a single click without any technical or XBRL knowledge.
This allows auditors to focus on what's important: The checking of the actual XBRL tags and line items, anchoring and calculation link base, which requires traditional IFRS knowledge. The tagging of the main financial statements can be checked or commented on a line-by-line basis from one version to the other.
The integrated checklist allows the complete audit to be performed, commented and documented (using file attachments) by multiple users at the same time.
An automatic and intelligent change detection for new versions of the report ESEF report as well as an XHTML and iXBRL comparison allows to quickly compare changed reports of clients without having to repeat already checked items.
A comprehensive Excel report with all validation results, the taxonomy, the machine-readable data set in multiple views as well as the documented check steps and comments can be extracted. COMPLETE AND CERTIFIED ESEF AND IXBRL VALIDATION CHECKLIST WITH DOCUMENT­ATION AND COMMENTS VIEWER FOR REPORT & TAGS, TAXONOMY EXTENSION VIEW IXBRL REPORTS IN READ-ONLY MODE EXPORT OF THE AUDIT REPORT TO EXCEL AND WORD COMPRE­HENSIVE
EXCEL REPORT HOTLINE FOR VALIDATION ERRORS AND EDGE CASES INTELLIGENT
CHANGE DETECTION
AMANA XBRL Auditor Functionalities
ESEF Reporting as a Service - Outsourcing ESEF
source: https://www.knf.gov.pl/knf/pl/komponenty/img/QA_on_ESEF_wersja_polska_67001.pdf (translation)
Will the costs related to the preparation of reports increase?

The implementation of a new structured reporting format, especially in the area of tagging consolidated financial statements in line with IFRS using the iXBRL specification, may initially entail a low cost for companies. The costs will largely depend on whether the company chooses to prepare its annual financial reports using the iXBRL standard in-house or whether to outsource it:

In the case of self-reporting, it is estimated (2) that the implementation costs per company related to the preparation of the first annual report in the new format would amount to approximately EUR 8,200 on average, and the costs related to the preparation of subsequent annual reports would amount to approximately EUR 2,400 EUR;
In the case of outsourcing, the costs related to the preparation of the first annual report in the new format per company would amount to approximately EUR 13,000 on average, and the costs related to the preparation of subsequent annual reports would amount to approximately EUR 4,600.

In any case, initial costs will decrease significantly after the first reporting year (3). The creation of special software is to help companies to standardize and automate the process of preparing annual financial reports in accordance with the ESEF format.
(2) ESMA —Feedback Statement on the Consultation Paper on the Regulatory Technical Standard on the European Single Electronic Format (ESEF), 21 December 2016. 
(3) As stated by ESMA, but also as shown by the results of the AICPA study on reporting costs using XBRL.
Selection of Plans
The offer covers the scope of ESEF reporting for reports for 2020 and 2021 (tagged annual consolidated report without notes and other reports and documents in xhtml format without tagging).
Basic Plan
unit report conversion to xHTML format
converting additional reports / documents to xHTML format
guarantee of visual compliance
validation of reports
customer support
performance of the service about 1h
Standard Plan
Basic Plan +
tagging the consolidated report based on the client's mapping
generating ESEF report (.zip package)
validation of the ESEF report
InlineViewer report to be placed on the website
support in auditing the report
performance of the service 1-2 business days
Pakiet Premium
Standard Plan +
preparation of a map of tags dedicated to the client's report
support during the audit of the report
AMANA XBRL Tagger
ESEF Report in 1 Day!
ESEF Reporting Plug & Play – without an implementation project and IT knowledge
ESEF 2021 - The most common issues, challenges and solutions
Learn from our ESEF and XBRL experts what the biggest challenges are in creating annual reports and how you can solve them with our software solutions.
AMANA Smart Notes
Disclosure Management: End-to-end process to the annual report
There are no upcoming events.
WIG 20 Indexes
using AMANA solutions
Verticals using AMANA solutions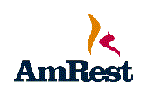 Raporty roczne za 2021 rok zgodne z wymogami ESEF zostały przygotowane dla grupy AmRest Holdings SE w oprogramowaniu XBRL Tagger (Amana). W porównaniu do poprzedniego raportowania w innym narzędziu, proces tagowania i tworzenia rozszerzeń okazał się o wiele prostszy i przejrzysty. Walidacje oraz zbiór raportów wbudowane w oprogramowanie umożliwiły utworzenie w krótkim czasie poprawnej warstwy kalkulacyjnej i prezentacyjnej, co przełożyło się na brak błędów na bramkach giełdy hiszpańskiej i polskiej. Zespół wdrożeniowy SmartCon w postaci Pana Jacka Rybarczyka wykazał się dużym profesjonalizmem i elastycznością, udzielając wsparcia technicznego i merytorycznego natychmiastowo.
Joanna Wiewiórko i Agnieszka Kołakowska- AmRest Holdings SE - Zespół Konsolidacji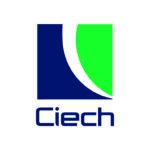 W tym roku opublikowaliśmy sprawozdanie Grupy CIECH w formacie ESEF przy wykorzystaniu AMANA XBRL. Raportowanie w formacie ESEF za rok 2020 wykonywaliśmy po raz pierwszy. W narzędziu można skutecznie i szybko otagować i wygenerować raporty finansowe iXBRL spełniające wymogi KNF i audytora przy pomocy AMANA XBRL Tagger. Uzupełnieniem narzędzia jest firma SmartCon, która daje duże wsparcie i pomoc podczas procesu przygotowywania sprawozdania w formacie ESEF.
Iwona Mańk - Ciech S.A. - Koordynator Sprawozdawczości GPW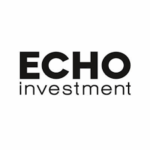 Echo Investment wykorzystało oprogramowania AMANA XBRL Tagger do przygotowania raportów za rok 2020 zgodnie z wymogami ESEF. Oprogramowanie jest proste i intuicyjne w obsłudze, a zarazem bardzo elastyczne i rozbudowane funkcjonalnie. Zespół SmartCon, z którego usług skorzystaliśmy, był bardzo pomocny podczas przygotowywania i audytu sprawozdań. Elastyczni, jeśli chodzi o czas pracy, reagowali bardzo szybko na wszelkie uwagi i zmiany podczas tagowania oraz audytu.
Tomasz Wieczorek - Echo Investment S.A. - Kierownik Zespołu Konsolidacji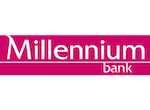 Bank Millennium do przygotowania raportów rocznych za 2020 w jednolitym europejskim formacie raportowania (ESEF) wykorzystał oprogramowanie AMANA XBRL Tagger. Narzędzie jest funkcjonalne a zarazem proste w obsłudze dzięki czemu opisanie raportu znacznikami oraz wygenerowanie go w formatach iXBRL i XHTML jest czasowo wydajne. Wdrożeniem AMANA XBRL Tagger oraz przygotowaniem nas do pierwszego raportowania zajął się zespół SmartCon, który zrealizował niniejsze prace szybko i efektywnie. Wsparcie przez SmartCon było realizowane rzeczowo z bardzo krótkim czasem odpowiedzi, dodatkowo należy zaznaczyć, iż obejmowało ono również pomoc w przygotowaniu publikowanego raportu finansowego (czyli dotyczyło realnego raportu Banku za rok 2020).
Arkadiusz Piekarski - Bank Millennium S.A. - Departament Finansów i Sprawozdawczości