ESEF Reporting compliant with KNF
Plug&Play - no implementation costs
xHTML - visually perfect

DESKTOP OR INTEGRATED
SOLUTION TAGGING OF ALL
DOCUMENT TYPES INSTANT TAGGING WITHOUT
IMPLEMENTATION PROJECT


READY-TO-PRINT LAYOUT FOR
DIRECT ESEF REPORTING

What do the new ESMA guidelines mean for my company?
As of 2020, the European Securities Markets and Authority (ESMA) requires all issuers on EU regulated markets to prepare annual reports in the Inline XBRL (iXBRL) format. Inline XBRL is an XBRL embedded in HTML, which means HTML annual reports are also mandatory. These ESEF reportings can be viewed with any web browser.
XBRL Tagger – ESEF Plug & Play without implementation project

"Bolt-on" solution:
generate (i)XBRL reports from Word, Excel, PDF and InDesign with the XBRL Tagger
With our easy-to-use XBRL certified software, you can create ESEF-compliant reporting in no time. Even without an implementation project and IT knowledge, you can immediately begin tagging your annual reports. The stand-alone XBRL tagger can recognize any data format and process all taxonomies. You can easily map IFRS taxonomy items to the corresponding financial statement numbers.
Convert any MS Word, PDF, HTML, or InDesign document to support the fast and easy operation of the stand-alone XBRL tagger. Once the mapping is done, all tags can be rolled forward to the new ESEF report in the following year.
Alternatively, the XBRL tagger is available as an integrated process solution within our disclosure management software SmartNotes. In addition to XBRL tagging, SmartNotes supports the complete end-to-end process from data imported from the consolidation system to the ready-to-print layout. Further information can be found here.


PDF / Word / InDesign tagging


All taxonomies and languages

Auto-tagging and mapping by smart AI

Corporate design compatible export
Disclosure Management SmartNotes:
End-to-end process to the annual report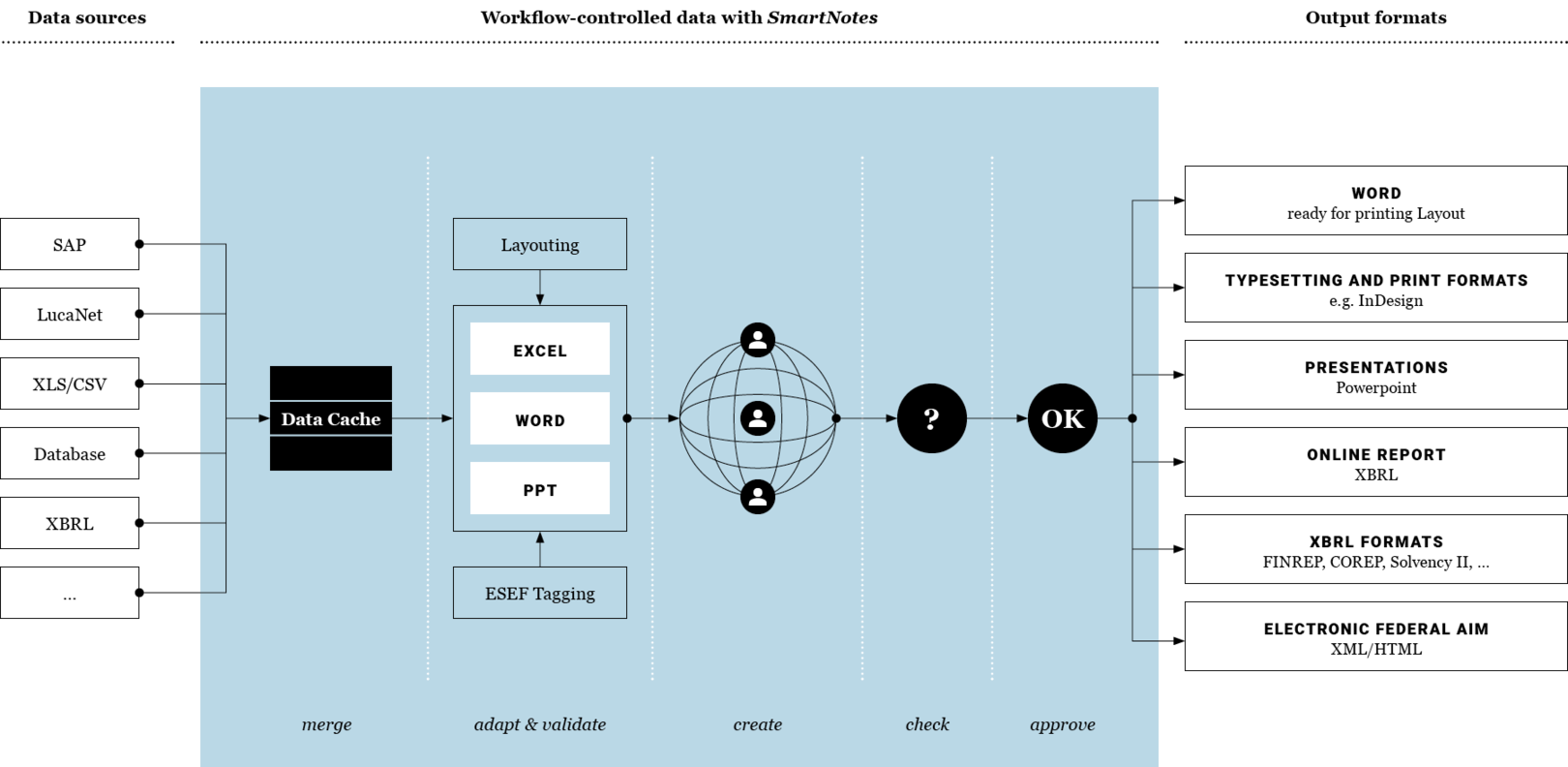 XBRL "built in":
workflow-controlled data flow with SmartNotes – fast creation of ESEF annual reports in iXBRL
Our Disclosure Management increases the efficiency in the preparation of annual reports and iXBRL reports and helps you to implement a valid ESEF reporting. Through the integration of the XBRL tagger, SmartNotes is available as a "built-in" version. In addition to XBRL tagging, SmartNotes supports the complete end-to-end process from data imported from the consolidation system, to the ready-to-print layout.
At the same time, our ESEF reporting software offers a variety of additional functions to support the professional work of your employees and to eliminate non-value-adding activities. For example, changes to a data import lead to an update of affected contents, in the tables, in the continuous text and in all language variants of your annual reports.
With our built-in role concept and full audit trail, we offer you revision security and also respond to your individual requirements. In addition, imported values, rounding adjustments, created taggings and texts are retained for the next report. In addition to ESEF, you can choose from a variety of other output formats, such as print-ready Word, PDF, Excel, InDesign, XBRL or iXBRL. END-TO-END
PROCESS
WITH
SMARTNOTES FLEXIBLE INTERFACES
IN
SMARTNOTES

READY-TO-PRINT
LAYOUT FOR
DIRECT ESEF
REPORTING
INTEGRATED XBRL
PROCESSOR
IN OUR ESEF
SOFTWARE SIMILAR REPORTS
DIRECTLY IN THE
DISCLOSURE
MANAGEMENT FULL AUDIT
TRAIL OF
TAGGING
ITEMS AUTHORIZATION
CONCEPT
AND
MULTI­LINGUALISM MANAGEMENT
OF
REPORTED
NUMBERS
AMANA software for your ESEF annual report
Regardless of which document format you have and whether it has a "built-in" or stand-alone "bolt-on" version: our integrated XBRL certified software guarantees a valid ESEF annual report in the iXBRL format.
The stand-alone XBRL tagger can recognize any data format and process all taxonomies; no implementation project or installation is necessary. Additionally, the XBRL tagger is integrated in our Disclosure Management SmartNotes. In addition to tagging, SmartNotes provides a complete end-to-end process from the first data imported from the consolidation system to the ready-to-print layout for publication.
Number of concurrent users working on one report
Certified (i)XBRL processor
PDF | HTML | InDesign tagging
XBRL tagging roll-forward
Disclosure Manage­ment Function­alities
Support for multi­lingual reports including number formatting
Integrated disclosure checklist
Content manage­ment based on Microsoft Office
Report roll-forward (numbers, manual adjust­ments, notes & comments)
Different types of output documents (e.g. Word, Excel, PowerPoint, HTML, iXBRL, XBRL, InDesign, etc.)
Linking & automatic update of values from data sources ( e.g. SAP, HFM, LucaNet, etc.)
Individual workflow system
"Layout Robot" for the automated production of glossy and ready-to-print reports
Detailed authorisation system and full audit trail
Compare XBRL Tagger and SmartNotes – find the right solution for your company.
Check and validate ESEF and iXBRL reports with the AMANA XBRL Auditor
The new ESEF regulation mandates listed companies to publish their annual financial reports in iXBRL digital format. In many EU countries, the ESEF reports also have to be audited or reviewed.
The main challenge of auditing iXBRL reports is the technical validation, checking of tags selected by the report creator and the comparison of the traditional format (PDF) with the new iXBRL format. Auditing iXBRL reports requires new knowledge for auditors and can only be done with a proper certified XBRL software.
The AMANA XBRL Auditor was developed on the basis of our many years of experience from hundreds of XBRL projects with a clear focus on the review and audit of iXBRL reports according to the ESEF regulation.
The AMANA XBRL Auditor supports you by:
automizing the technical validation in accordance with the ESMA Validation rules
checks for integrity of the machine readable and human readable document
supports the documentation with checklists
version control, by comparing and tracking changes from one version to the other
client communication with comments
four eyes and review function
The generic approach allows the auditor to load any iXBRL report, no matter which tool was used to create the report. Immediately, the machine-readable dataset is validated and displayed and can be compared to the "human-readable" XHTML. The compliance check of the report as described by the ESEF Reporting Manual as well as the regulation itself can be performed and confirmed with a single click without any technical or XBRL knowledge.
This allows auditors to focus on what's important: The checking of the actual XBRL tags and line items, anchoring and calculation link base, which requires traditional IFRS knowledge. The tagging of the main financial statements can be checked or commented on a line-by-line basis from one version to the other.
The integrated checklist allows the complete audit to be performed, commented and documented (using file attachments) by multiple users at the same time.
An automatic and intelligent change detection for new versions of the report ESEF report as well as an XHTML and iXBRL comparison allows to quickly compare changed reports of clients without having to repeat already checked items.
A comprehensive Excel report with all validation results, the taxonomy, the machine-readable data set in multiple views as well as the documented check steps and comments can be extracted. COMPLETE AND CERTIFIED ESEF AND IXBRL VALIDATION CHECKLIST WITH DOCUMENT­ATION AND COMMENTS VIEWER FOR REPORT & TAGS, TAXONOMY EXTENSION VIEW IXBRL REPORTS IN READ-ONLY MODE EXPORT OF THE AUDIT REPORT TO EXCEL AND WORD COMPRE­HENSIVE
EXCEL REPORT HOTLINE FOR VALIDATION ERRORS AND EDGE CASES INTELLIGENT
CHANGE DETECTION
AMANA XBRL Auditor Functionalities
WIG 20 Indexes
using AMANA solutions
Verticals using AMANA solutions